Phillips 66's Midstream group immerses new engineers in our intensive Engineer Development Program designed to build a broad knowledge base in the first five years of employment. Through this program, engineers will learn to apply their engineering disciplines to a broad range of topics needed to help them be successful. Through formal training, rotational assignments, mentoring and networking, our early career new hires convert the skills learned in the classroom into practical real-world experience.
Midstream Engineer Development Program
Our Midstream Engineer Development Program (EDP) is designed to provide foundational training for engineers beginning their careers, and ongoing technical and leadership development for mid-career and expert employees. The program consists of formal technical training, continuous on the job learning, exposure to Phillips 66 leadership and company assets, and the development of networking and teaming skills.
Setting Up for Success Rotation Program
Our developmental rotation program provides new hires with the opportunity to experience three two-year positions in operations, projects and technical roles. During this six-year period, our new hires develop skills and capabilities from on-the-job learning experiences, assignments and networking, in addition to formal training. Career development begins on Day One with new hires entering the program on the first day of their employment.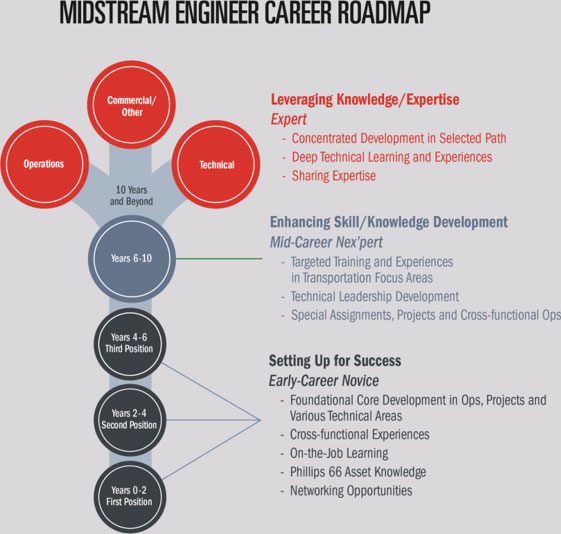 Midstream Careers
Operations Engineers

are located in one of the six U.S. asset divisions and assigned to the pipeline systems or terminals. These positions provide engineering support to operations, projects and pipeline integrity and reliability personnel.

Project Engineers

provide project management services to execute projects in one of the six U.S. asset divisions. This includes project engineering and management support, from initial project scoping and development through design, construction and project close-out.

Technical Engineers

work with experienced engineers who are experts in specific technical areas. As the single point of contact for assigned pipeline systems, these positions provide engineering support to operations, logistics, projects and pipeline integrity and reliability personnel.
Over time, your career may include:
Division Engineer
Integrity Engineer
Operations Engineer
Project Engineer
Tech Services Engineer
To apply for a Midstream New Hire job, please click here.
Whether you're a chemical, electrical, mechanical, metallurgical or civil engineer, there's a place for you to flourish at Phillips 66. Our Refining New Hire Program prepares you in your new career by offering significant training and development within the first five years of employment. As a refining new hire, you'll have the opportunity utilize your existing knowledge while building new skill sets. Our focus is to help you gain a more robust understanding of the refining process and the energy industry, in an environment that embraces collaboration and values your contributions.
Professional Refinery Engineering Program (PREP)
PREP is a comprehensive development roadmap for early career engineers at Phillips 66. Through this three-year program, engineers learn from internal and external experts during intensive, 1-2-week sessions a year. This experience includes the following program benefits:
Executive exposure
Business and financial acumen
Technical and high-level refining presentations by SME's
Hard and soft skill development
Introduction to functional excellence team resources
Networking and team building with other early career engineers
Phillips 66 engineers begin their careers by contributing in these key areas:
Business or Economic Analysis
Control Systems
Environmental
Equipment Reliability and Maintenance
Process Design
Operations
Projects
Process Safety
To apply for Refining University New Hire jobs, please click here.